CrowdThnk gives you an edge to forecast the future by identifying and measuring the market's positioning. We'll walk you through a step-by-step demonstration on how you'll use CrowdThnk's product and incorporate it into your overall investment strategy.
Enter Your Top 5 Equities
Each week, CrowdThnk surveys and collects data from thousands of sources in the financial markets for Positioning Data. In addition, each week we ask our users for their Top 5 Single-Name US Equity Holdings in their current portfolio as a corresponding percentage of their Portfolio Size. For example:
If you are Long $300 worth of Amazon and your Portfolio Size is $1000, you would enter "30", representing 30% of your portfolio.
If you are short an equity, please assign a corresponding negative weight as a percentage of your Portfolio. For example:
If you are Short $200 of Apple and your Portfolio Size is $1000, you would enter "-20", representing 20% of your portfolio
On the portfolio level, for example, if you own the following stocks: AMZN, NFLX, AAPL, NKE and WMT, you can simply enter your data as such: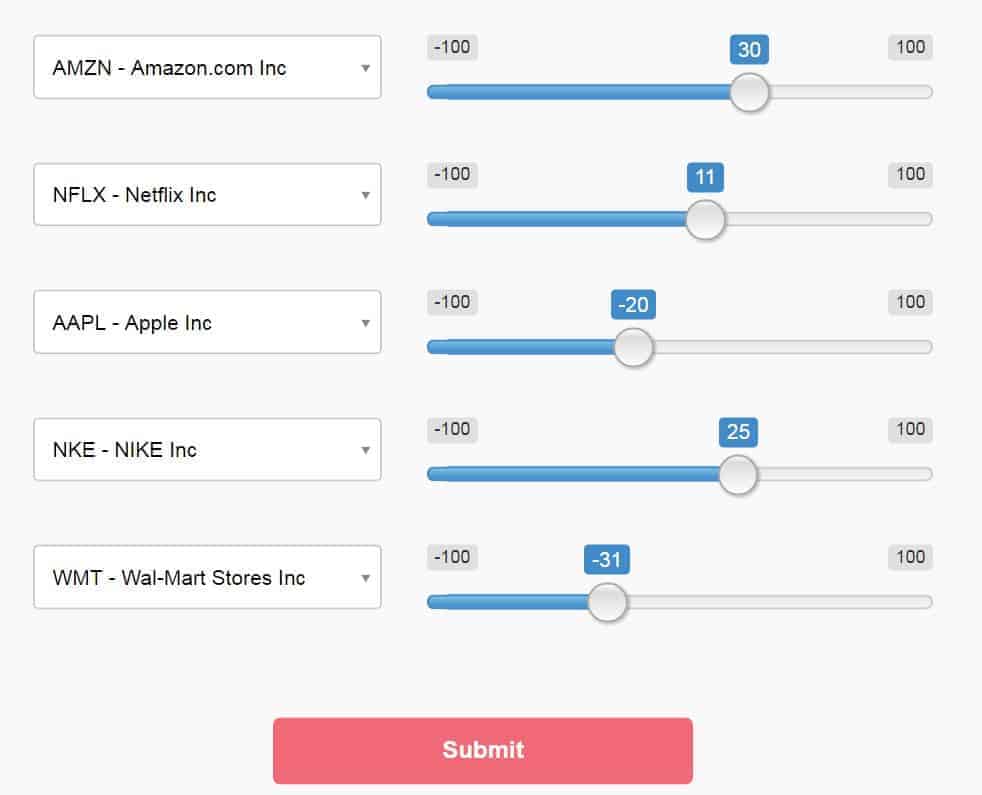 If your portfolio holds more than 5 stocks, please enter the 5 stocks that have the highest percentage within the portfolio. If your portfolio holds less than 5 stocks, for example 3 stocks, please enter the other 2 stocks that you are interested in but leave the percentage to be 0.
Once you hit the 'Submit' button, you will be directed to our Stock Watch List page, which will automatically be populated with your 5 stocks and others you wish to follow.
In order to stay updated on positioning levels, CrowdThnk will ask you to enter this data only once per week before you can view the Positioning Database, complete with accurate Positioning Scores of over 500 Stocks.
We take your privacy seriously and we do not share this information with any third-party nor distribute this data. We simply use this data as a small input into our larger database of market positioning data that we collect from many different sources.
Follow Your Stock Watch List
You can Update your Stock Watch List page with up to 5 stocks for Free Users. Basic and Premium Subscribers can access all 500 stocks with up to 20 stocks appearing on your Dashboard.

CrowdThnk's Positioning Score Scale measures the positioning of a Stock relative to its historical positioning in the past. Our research has found that stock prices fluctuate with relative positioning moreso than absolute positioning measures. Our scale ranges from 0 to 10 with 0 representing Very Underweight or Short positioning whereas 10 represents Very Overweight or Long positioning in a particular stock.

Capitalize on Trading Opportunities
In this example, we see that Nike's Positioning Score has been fluctuating between the extremes over the course of 2017. You can view its positioning data history over the past 5 years and also visualize how the Positioning Score changes relative to its stock price on the right.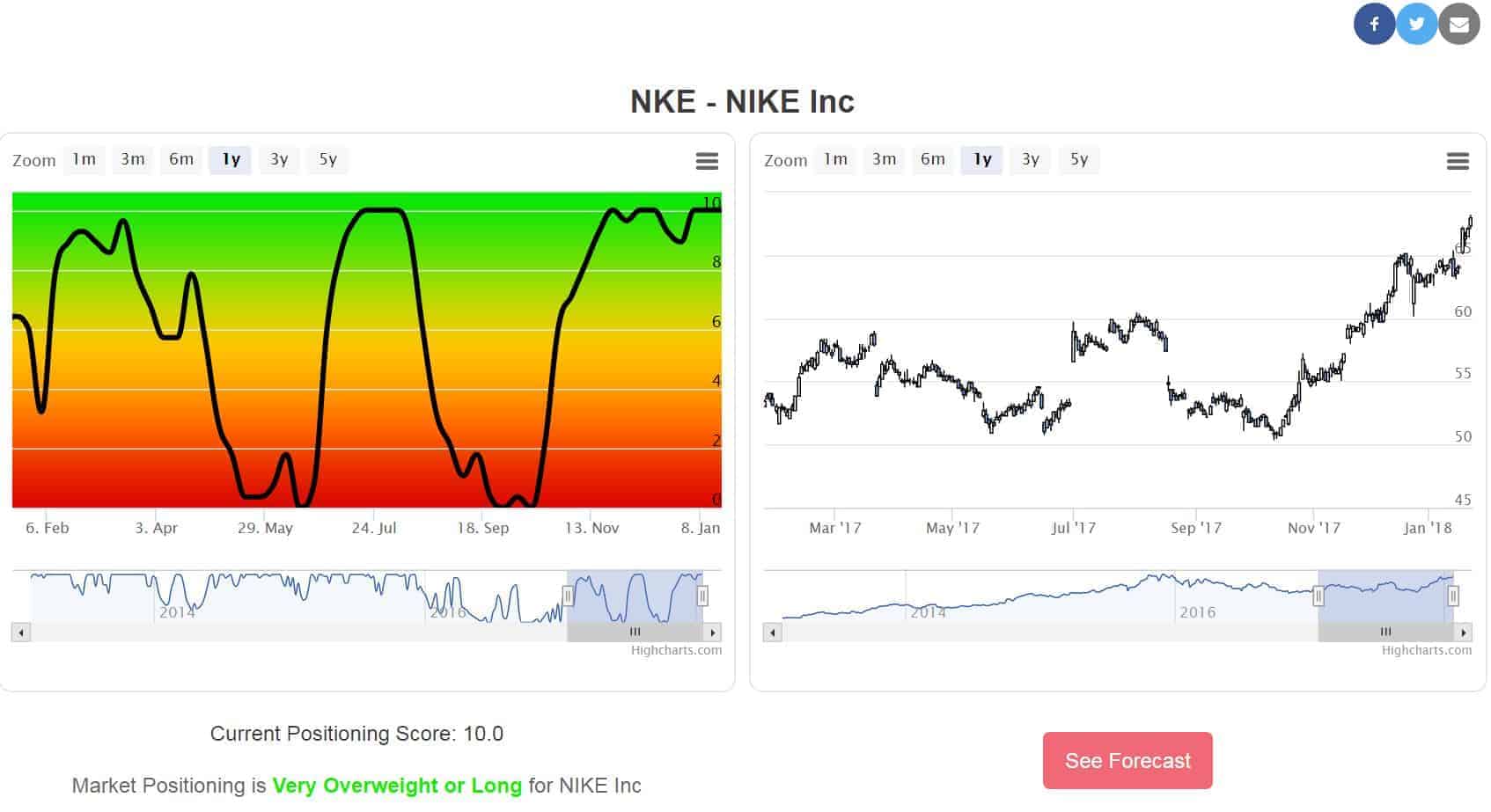 Upon closer inspection, Nike's stock price started to quickly accelerate in October 2017 after its CrowdThnk Positioning Score registered 0, meaning the market was short or very underweight this stock. Often times, we observe fast accelerations in stock price behavior if it's coming from one extreme, in this case, representative of a Stock Squeeze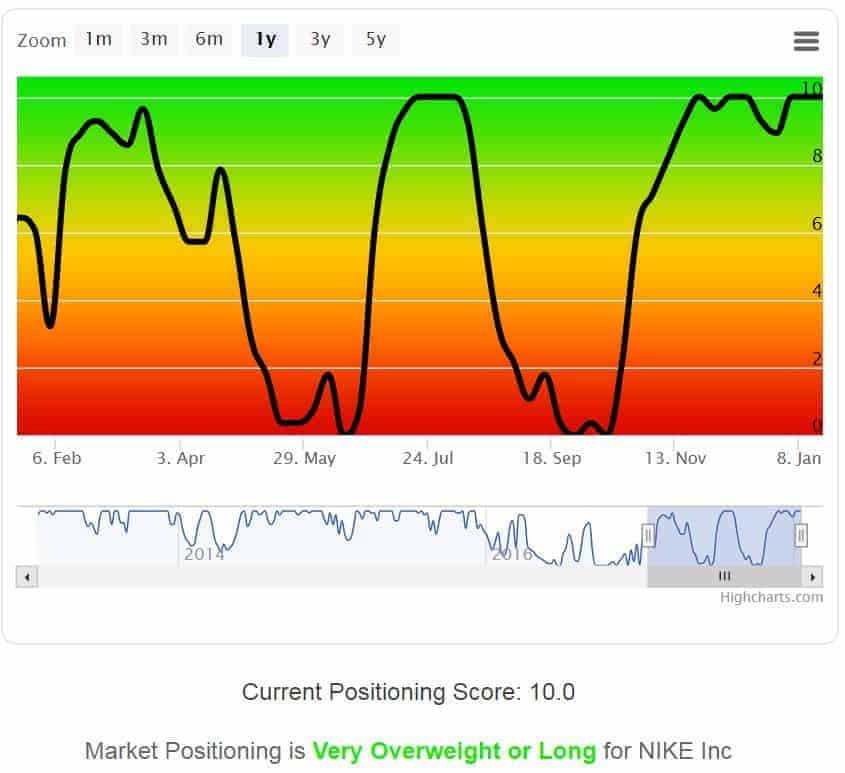 Gain Your Edge from CrowdThnk's Proprietary Forecasts
Each week, Premium Subscribers have access to probability-based forecasts for the direction of each stock, generated from CrowdThnk's proprietary machine learning algorithm. In this example, as Nike has a Positioning Score of 10.0, we forecasted a 56% chance of Nike appreciating during the week starting January 22nd, 2018. A long position on the back of this signal would have produced a healthy return.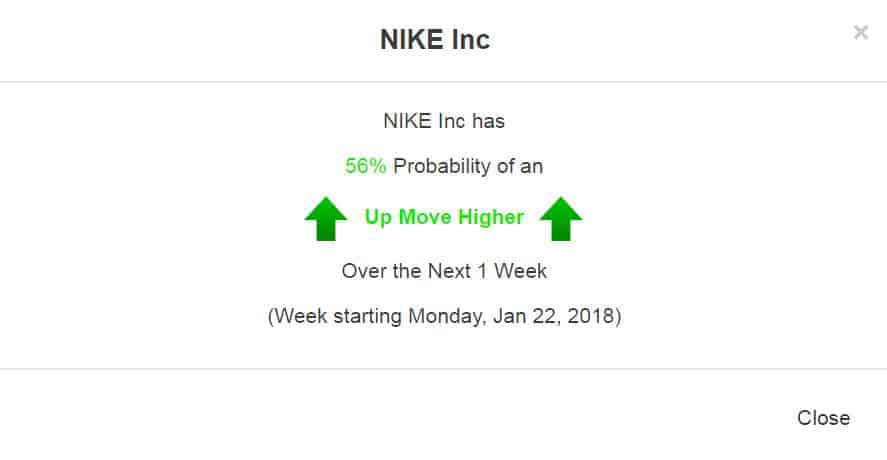 In addition, Premium Subscribers receive CrowdThnk's Top Weekly Forecasts, generally consisting of about 5 to 10 stocks per week. CrowdThnk's team advocates these trades with high conviction, giving you a competitive edge in boosting your trading profit.
Take Your Trading to the Next Level
CrowdThnk focuses on Actionable and Data-Driven measures of positioning to deliver Timely Market Signals. Our overall signals from our Top Forecasts page, which can be accessed by Premium Subscribers, has historically produced a very strong track record. CrowdThnk quantifies the all-important, but difficult-to-measure factor of stock market positioning, helping you gain an edge on the competition.
Financial Markets are a game of inches and this type of edge will help you trade with confidence.
So Stop Guessing. Start Knowing. Build your Market Edge Today!